- The number of open workshop seats will be limited due to current government restrictions -

If you would prefer to get the information 1:1 click here for an appointment
Attention Knee Pain Sufferers! Free​ Workshop!
New Knee Pain Workshop Helps Local People Get Back to Normal Naturally, Without Unnecessary Pain Pills, Injections, or Surgeries
Wednesday, Apr 29th
6:00 PM
980 Beaver Grade Road, Suite 201 Moon Township, PA 15108
Enter Your Info Below To Register For The Workshop

We value your privacy and would never spam you
Go​ to​ the​ Knee Pain​​ Workshop​ and​ Learn:
1

The Top 3 Causes of Knee Pain that can lead to a Knee Replacement and a long recovery. (One of them you won't believe…)

2

The #1 Single Biggest Mistake that Knee Pain sufferers make that can lead directly to surgery.

3

A sure-fire way to get your life back and pick the right treatment for the cause of your pain (and save you time and money.

4

What successful treatment and permanent relief look like without the side effects of unnecessary medications, injections or surgery.
Who​ is​ the​ Workshop​ For?
The​ Knee​ Pain​ Workshop​ is​ for​ people​ suffering​ with​ knee​ pain​ who​ are​ looking​ to​ feel normal​ again​ and​ heal​ naturally​ without​ medications,​ injections​ and​ surgery.
1

Are you afraid to move because you fear your knee might "give out"?

2

Do you find yourself taking Tylenol, Aleve or Advil just to get through the day?

3

Are you missing out on family time because of knee pain?

4

Have you changed the way you do everyday activities - like going up and down stairs or getting in and out of a car?

5

Do you try to just "keep going" but you feel limited in what you can do?

6

Do you feel worn out and held back because of your knee?
What Do Others Have To Say About The Knee Pain Workshop?
"After Christmas last year, I realized that I could no longer live with my painful knee in the poor condition that it was in. I was, literally, limping along. The pain was outrageous. I immediately made an appointment with my orthopedic specialist, Dr. Snell, to receive another cortisone shot and to reluctantly request a recommendation from him to finally move toward knee replacement. I have been avoiding and refusing this recommendation for years. I never wanted a knee replacement, but this time, I had no choice. I received the shot and made another appointment for six months – for another shot. As I was leaving, I remembered that Dr. Snell said that I could do physical therapy. I had always thought that this was not a worthwhile solution. I had my coat on and was leaving the office when I decided to ask the nurse to go back to the doctor and get a physical therapy authorization form. As fate would have it, I had signed up for a Moon Library information session concerning knee pain. As I sat there during the session, I recognized that EVERYTHING that Jeff Homer from the Physical Therapy Institute was describing was actually me, to a tee!! How did he know? He knew that I could not go up steps without pain -- that I could not pivot -- that I could not stand the pain anymore. The session ended and I had the authorization form in my purse and I decided that I did not need another sign from heaven and I handed over the papers to Jeff. I started physical therapy the next week. I always wore a knee brace all during the work day and evening. I took Aleve to cope with the pain constantly. I could not walk without my knee making crunching sounds and could not go up steps without agony. I truly believed that the only solution to my daily misery was a long-dreaded operation – which would only create new knee problems. How could physical therapy – strengthening my leg muscles to start doing the job that they should have been doing all along – really help me to throw away my knee brace? After weeks of physical therapy and Jeff Homer's and Stefanie Koskoski's constant and thorough administrative plan and observation of my physical therapy exercises, it became clear that not only was I making progress, but I was not putting on the knee brace first thing in the morning and I was not taking Aleve to solve my daily pain. Could this be the miracle that I had overlooked? Was physical therapy really that helpful? I must tell you, I was really surprised! I am no longer a skeptic but a believer and I urge people to give physical therapy a try before making any life-changing decisions. You could not get better care anywhere than from Jeff and Stephanie. They are super personable and make the course of your treatment fun. You will have to go to physical therapy after an operation anyway, so why not make it your first stop on the way to your long-term recovery and reclaim your way of life? Don't limp along when you can stand straight, be stronger and be pain free."
Patty Zusinas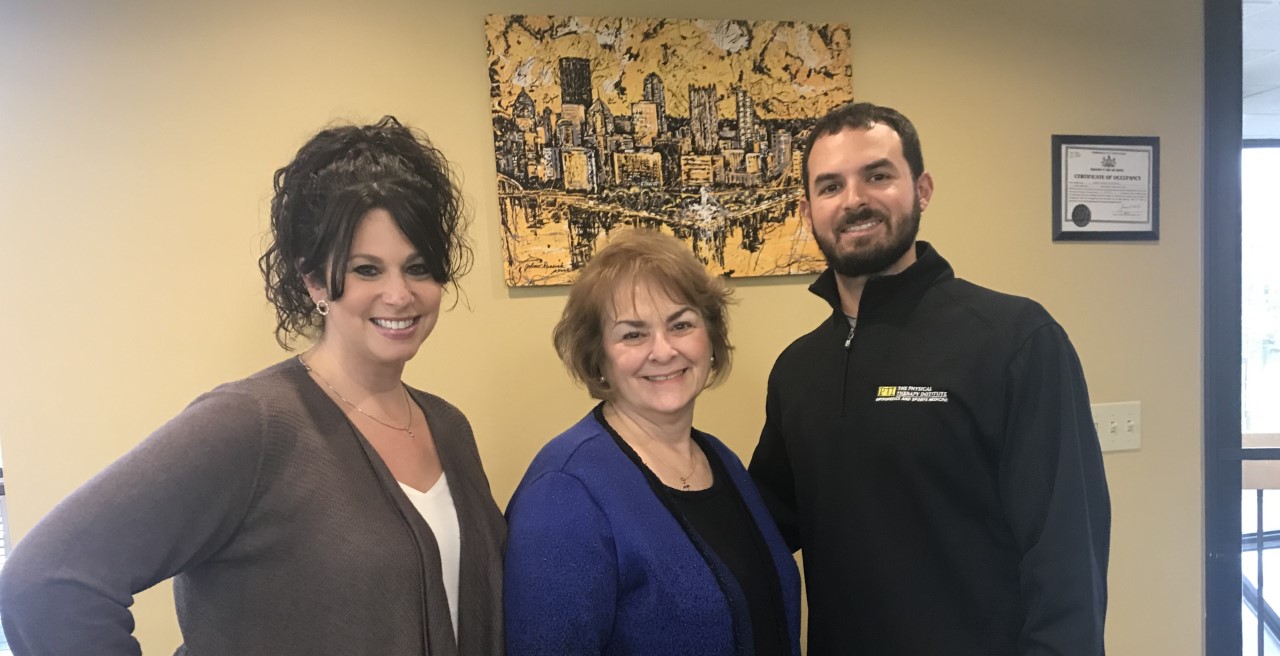 My experience at PTI was fantastic! I came in with pain in my left knee, and within only a few weeks, I am pain free! The staff is kind, hard-working and fun! Thanks, PTI!
Lauren Finney
I want to say thank you for your professional care. I was told by an orthopedic doctor that I had bone on bone in my left knee and I needed a replacement. I told him "Not on my watch." In February I had a lot of pain while walking around. Then I heard about this workshop from a friend. After an evaluation, I started therapy and in May I went to the Pittsburgh Zoo and walked 4 hours with NO PAIN, NO PAIN that night and NO PAIN the next day! Both of you have changed my life. Thank you so very much.
Romaine Biddle
We have limited spots available and space will fill up fast, so register now to avoid missing out.
Enter Your Info Below To Register For The Workshop

We value your privacy and would never spam you